Update 7/1/2020: This webinar has ended. A recording of the event and associated resource handbook are available below.
Fraud is on the rise. Don't become a victim.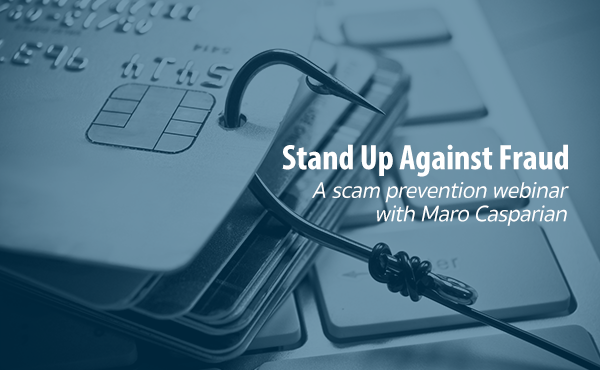 In 2018, the Federal Trade Commission received 1.4 Million fraud reports from Americans, including reported losses of $1.48 Billion—An increase of 38% from the year before. And that's just the scams that were reported.
It's easy to think that we're immune to scams… that stuff only happens to other people, we say. But the truth is, identity theft and other types of fraud are becoming more prevalent all the time. And scammers love taking advantage of times of uncertainty like, say, a global pandemic.
The good news: there's plenty we can do to protect ourselves and our families from fraud, especially scams related to COVID-19.
Join FPPA and other Colorado first responders for an hour-long webinar with fraud expert Maro Casparian of the Denver District Attorney's office. This free event will teach you to stay off scammers' radar in the first place, how to recognize likely-scams in progress, and what to do if you or someone you know falls victim.
Watch On-Demand
Additional Resources
Following the webinar presentation, Ms. Casparian provided a resource handbook for attendees to download and use in their personal and professional lives. Included resources:
Quiz: What is Your Identity Theft Probability Score?
10 Ways to Avoid Fraud
How to Reduce Your Identity Theft Risk
5 Red Flags of a Scam
What to do if Your Identity is Stolen
When Must You Provide Your Social Security Number to a Business?
How to Freeze Your Credit
Organizations That can Help
How to Report Fraud
Contact Information for Maro Casparian, the Denver DA's office and Other Local District Attorneys
About Maro Casparian

Maro Casparian is the Director of Community Outreach and Engagement for the Denver District Attorney's Office. She is responsible for establishing the Denver District Attorney's Office as a community partner for crime prevention providing presentations to organizations on how to protect yourself from fraud, scams and identity theft. Maro developed an outreach program for Denver's middle and high school students with a goal of informing students of the potential pitfalls and issues surrounding topics such as Sexting and Consequences / Internet Safety, Bullying / Cyber Bullying, Teen Dating Violence / Sexual Assaults and Consent among other topics.

Maro trains and speaks throughout Denver and nationally on topics including: Scams, Caregiver Neglect and Exploitation, Cybercrimes, Healthcare Fraud, Identity Theft, Aging and Ageism, the Mandatory Reporting Law surrounding crimes against At-Risk Adults.
Ryan Woodhouse is the Content and Publications Manager for the Fire & Police Pension Association of Colorado. When not creating content for FPPA, Ryan can be found fly fishing in the Colorado high country or shouting at the TV during University of Wisconsin football and basketball games.