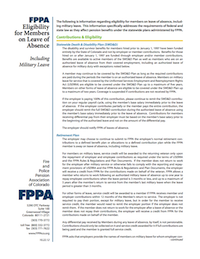 There are many well-documented types of service credit that FPPA members can purchase, but here are a few you might not know about: USERRA, sick leave or workers' compensation leave. Members who miss work for these types of leave may be eligible to purchase the time they missed. However, there are a few requirements and some specific deadlines to adhere to if you wish to purchase this time.
Members who have been on military leave covered by the federal Uniformed Services Employment and Reemployment Rights Act (USERRA) can purchase Service Credits for this time. To qualify, members must resume work with the same employer after their military leave concludes and purchase that time within one year of re-employment if the leave period was less than three months in length, or five years if the leave period was over three months.
Members may also be eligible to purchase service lost because of unpaid sick leave or workers' compensation leave, which could include time spent on maternity or paternity leave. In these cases, members must complete the service purchase within one year of returning to work.
Please note that certain conditions may apply. To learn more about eligibility as well as the cost to purchase service for leave time, please contact FPPA.
Ryan Woodhouse is the Content and Publications Manager for the Fire & Police Pension Association of Colorado. When not creating content for FPPA, Ryan can be found fly fishing in the Colorado high country or shouting at the TV during University of Wisconsin football and basketball games.