In August 2018 the FPPA Board of Directors created a task force to evaluate FPPA's Statewide Pension System. The task force will evaluate various possible changes aimed at improving system benefits.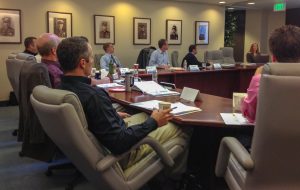 The decision to create a task force was born out of FPPA's commitment to provide high quality benefits to our active and retired members. Per Board directive, the task force will be co-chaired by Board members Pamela Feely and Todd Bower, and will be comprised of Employer representatives, Plan Members, and related associations.
Over the next several months, this group will evaluate several ideas related to the Statewide Pension System and its individual plans. Examples of topics to be explored include:
Increased contributions
Possible enhancements to Plan benefits
Sustainable administration and funding of the Statewide Death & Disability Plan
Contribution splits between the Defined Benefit and Money Purchase components of the Hybrid Plan
After studying the individual plans and evaluating the potential impact of any proposed modifications, the task force will present recommendations to the FPPA Board of Directors regarding any changes they believe to be in the best interest of the Statewide Pension System.
FPPA plans to finish the task force selection process in the coming weeks, with a kickoff meeting of all participants in the next few months.
Ryan Woodhouse is the Content and Publications Manager for the Fire & Police Pension Association of Colorado. When not creating content for FPPA, Ryan can be found fly fishing in the Colorado high country or shouting at the TV during University of Wisconsin football and basketball games.