Being accountable and responsive to members and employers within the FPPA system is critically important to us. So, as 2016 came to a close, our staff deployed a survey to FPPA's employer contacts from each participating department hoping to gain some insight into the opinions of those who help to administer our plans at the local level. During November and December, we received responses from just over 100 employers, and gained valuable information regarding the quality of FPPA's service, effectiveness of communications, and satisfaction with various FPPA programs.
According to our results, employers believe that FPPA provides timely information and keeps them well informed. These items received an average score of 4.23 and 4.27, respectively (1-5 scale where 5 is highest). Of all FPPA communications methods, the Employer Portal was deemed most useful, followed by the FPPA website, Employer Bulletin and Pension Check Newsletter. Overall, 91.6% of those responding chose email as their preferred communication method.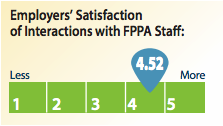 Regarding satisfaction with FPPA's services, affiliated employers are pleased with the level of service they receive, offering an average score of 4.36 (where 5 is highest). Likewise, those employers who utilize different reports provided by FPPA-such as actuarial valuation and GASB reporting information-were generally satisfied, with average scores between 4.04 and 4.13 on the same scale.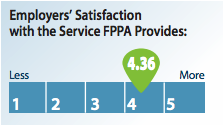 When asked if they were confident in FPPA as the pension provider for their department, respondents gave us an average score of 4.28 points. Questions about quality of interactions with FPPA staff also scored quite well, as respondents indicated that they were generally satisfied with their interaction (4.52), that the staff member who helped them was knowledgeable (4.56) and responded to their requests in a timely manner (4.57).
As a member or employer within the FPPA system, your feedback matters to us. We value your opinions at any time, not just when we are conducting surveys. If at any point you wish to offer feedback regarding FPPA services, please contact us!
Ryan Woodhouse is the Content and Publications Manager for the Fire & Police Pension Association of Colorado. When not creating content for FPPA, Ryan can be found fly fishing in the Colorado high country or shouting at the TV during University of Wisconsin football and basketball games.