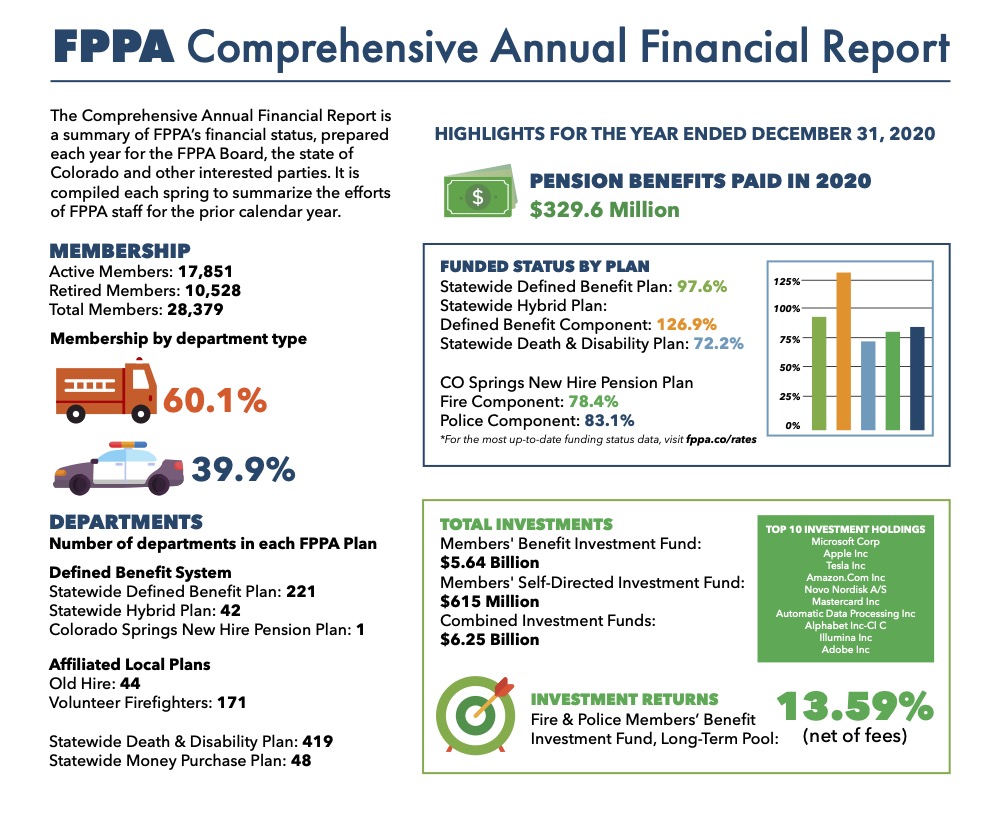 The Annual Report is a summary of FPPA's financial status, prepared each year for the FPPA Board, the state of Colorado and other interested parties. It's also a massive project, requiring weeks of hard work from many FPPA staff who feel an enormous sense of accomplishment when it is completed each year.
But, at just shy of 230 pages, the full report can be daunting to say the least. In addition, the complicated actuarial language throughout is not always fun or easy to read.
However, these details should not get in the way of reading the report. Why? Because it is absolutely full of information that FPPA members, employer and other stakeholders should be aware of!
The goal of this post, then, is to make our Annual Report less intimidating, and share some of the most important and interesting stats featured in this year's report.
View Annual Report Highlights Infographic
Highlights from the 2020 Annual Report
Membership
Active members in 2020 totaled 17,851, dropping 0.4% from 2019 (17,922). As you might expect with a drop in active members, retirees in the FPPA system increased in 2020 to 10,528, an increase of 0.5% over 2019.
Overall membership in FPPA remained essentially the same year over year, totaling 28,379.
Pension Benefits Paid in 2020
In the calendar year of 2020, FPPA paid a total of $329.6 million to FPPA retirees, survivors and beneficiaries.
Funded Status by Plan
A defined benefit plan's funding status, simply put, reflects the general financial health of the plan. For a little more detail, consider this definition from Investopedia:
Funded status compares the assets to the liabilities in a pension plan. This data point is useful in understanding how many employees are truly covered in a worst-case scenario if the company or other organization is forced to pay all of its retirement benefits at once.
The 2020 Annual Report shows FPPA's managed defined benefit plans are all well-funded, and trending in a positive direction. The specific values for the Defined Benefit System are:
Statewide Defined Benefit Plan: 97.6%
Statewide Hybrid Plan: Defined Benefit Component: 126.9%
CO Springs New Hire Pension Plan

Fire Component: 78.4%
Police Component: 83.1%
*Please note that FPPA releases updated funding status data each summer. For the most up-to-date funding status data, visit fppa.co/rates
Investment Returns
Top 10 investment holdingsFPPA's investments are highly diversified in an effort to achieve the organization's long-term goals. Yet, the top ten holdings for FPPA at the end of 2020 included:
Microsoft Corp
Apple Inc
Tesla Inc
Amazon.Com Inc
Novo Nordisk A/S
Mastercard Inc
Automatic Data Processing Inc
Alphabet Inc-Cl C
Illumina Inc
Adobe Inc
Do you have questions regarding any information contained in the Annual Report? If so, contact us!
Ryan Woodhouse is the Content and Publications Manager for the Fire & Police Pension Association of Colorado. When not creating content for FPPA, Ryan can be found fly fishing in the Colorado high country or shouting at the TV during University of Wisconsin football and basketball games.