Update 8/4/2023: This event has ended. Thank you to all who attended.
Maximize Your Retirement Potential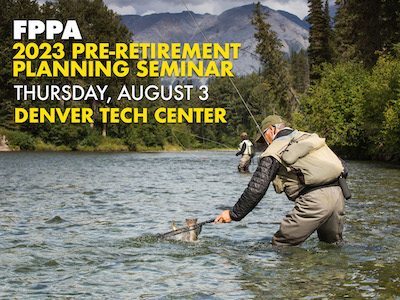 Make the most of your retirement at FPPA's Pre-Retirement Planning Seminar on Thursday, August 3rd in the Denver Tech Center. This full-day event is designed to help FPPA Members like you build (or add to) a solid retirement foundation.

Choose between joining us in person or online via Zoom Webinar–whichever suits you best.

Event Details

Date: Thursday, August 3
Event time: 9:00 am – 3:45 pm

Agenda
9:00 – 10:00 am: Psychology of Retirement | Dr. John Nicoletti
10:10 – 11:00 am: Medicare and Healthcare in Retirement | Dennis DePizzo (CMS)
11:10 am – 12:00 pm: Wills, Estates, and Trusts | Krista Look
12:00: Lunch | On your own
1:15 – 2:05 pm: Social Security | Ivy Heuton
2:15 – 3:45 pm: FPPA Retirement Process | FPPA Staff