For many, 2021 was intended to be a reboot year; an opportunity to get back into normal business and life activities; a chance to innovate and improve based on the lessons we've learned during the Covid pandemic; and if all else failed, at least the new year couldn't possibly be as crazy as 2020. But then, 2021 happened.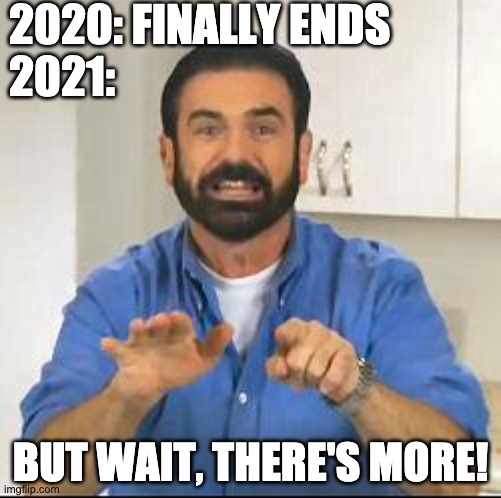 What I'm trying to say is, 2021 didn't go exactly as anyone planned. As Time Magazine put it, "It was a lurching, stammering year that began in hope, flirted with whiplash, and shuddered to a halt."
But, in a challenging and unpredictable year, there was still plenty to be proud of: in 2021, our staff successfully returned to the office, returned to in-person meetings and returned to regular department visits across the state. Our members continue to do great things, and they—along with employers and other stakeholders—remain satisfied with their relationships with FPPA. Retiree benefits continue to be paid on time, and our plans remain very well-funded and set up for future success.
So instead of focusing on the setbacks of the last twelve months, let's continue the tradition we started last year and take a minute to acknowledge the good that came out of 2021.
FPPA's 2021 Year in Review

FPPA members made some big life changes
In 2021, FPPA's Benefits team processed more member retirements than in any other single year in FPPA's history, by a lot. As of mid-December, our staff had approved 351 retirement applications, their highest annual total ever and double what we processed in 2020.
In addition, FPPA approved a combined 71 disability and survivor benefits, making 2021 among the busiest years in FPPA's history for both as well. Coupled with the biggest retirement year on record, that's a lot of life change.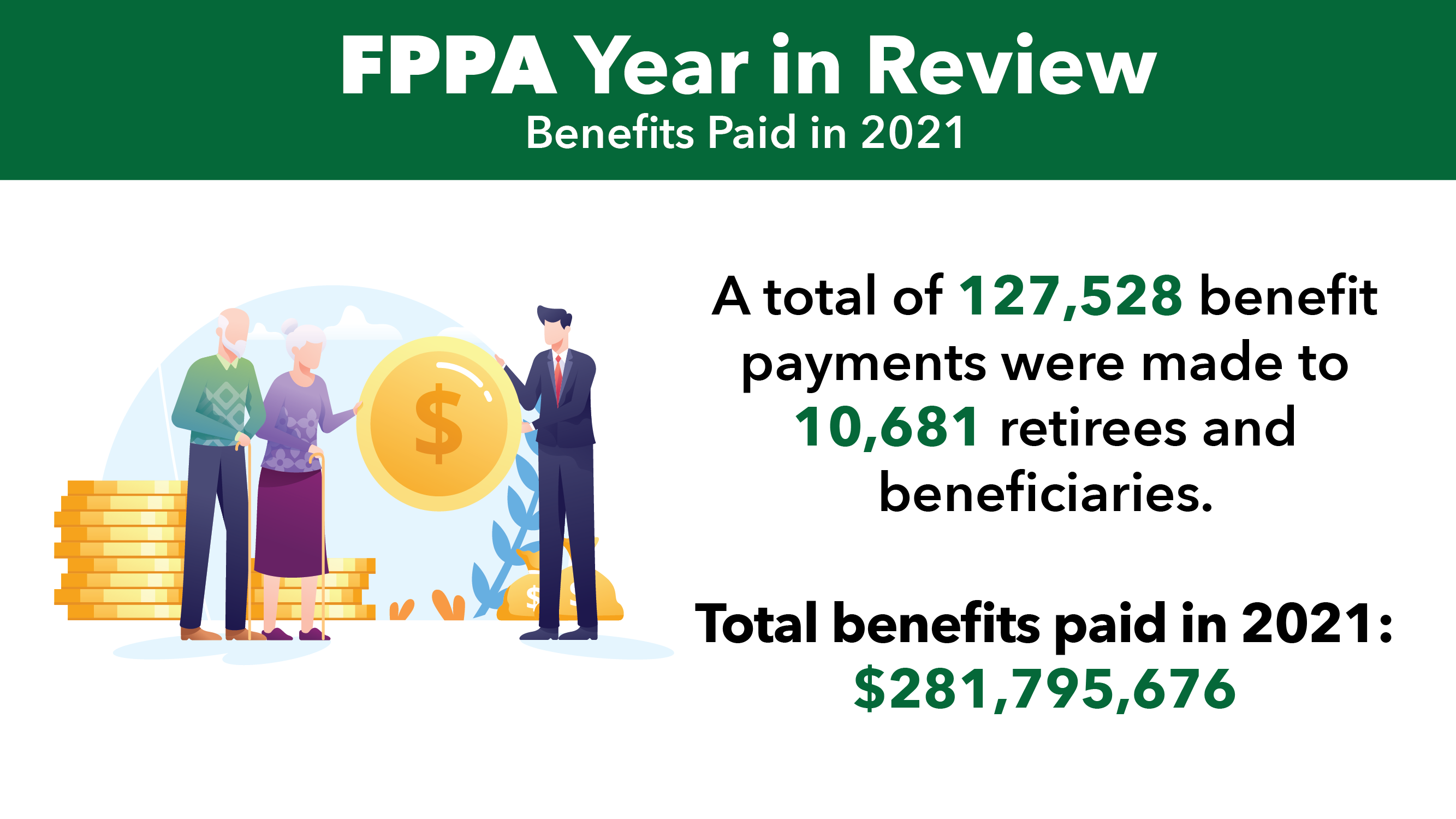 Benefits paid. Promises kept.
In 2021, FPPA made a total of $281,795,676 in benefit payments to 10,681 different recipients. This represents a relatively small decrease (0.8%) from 2020.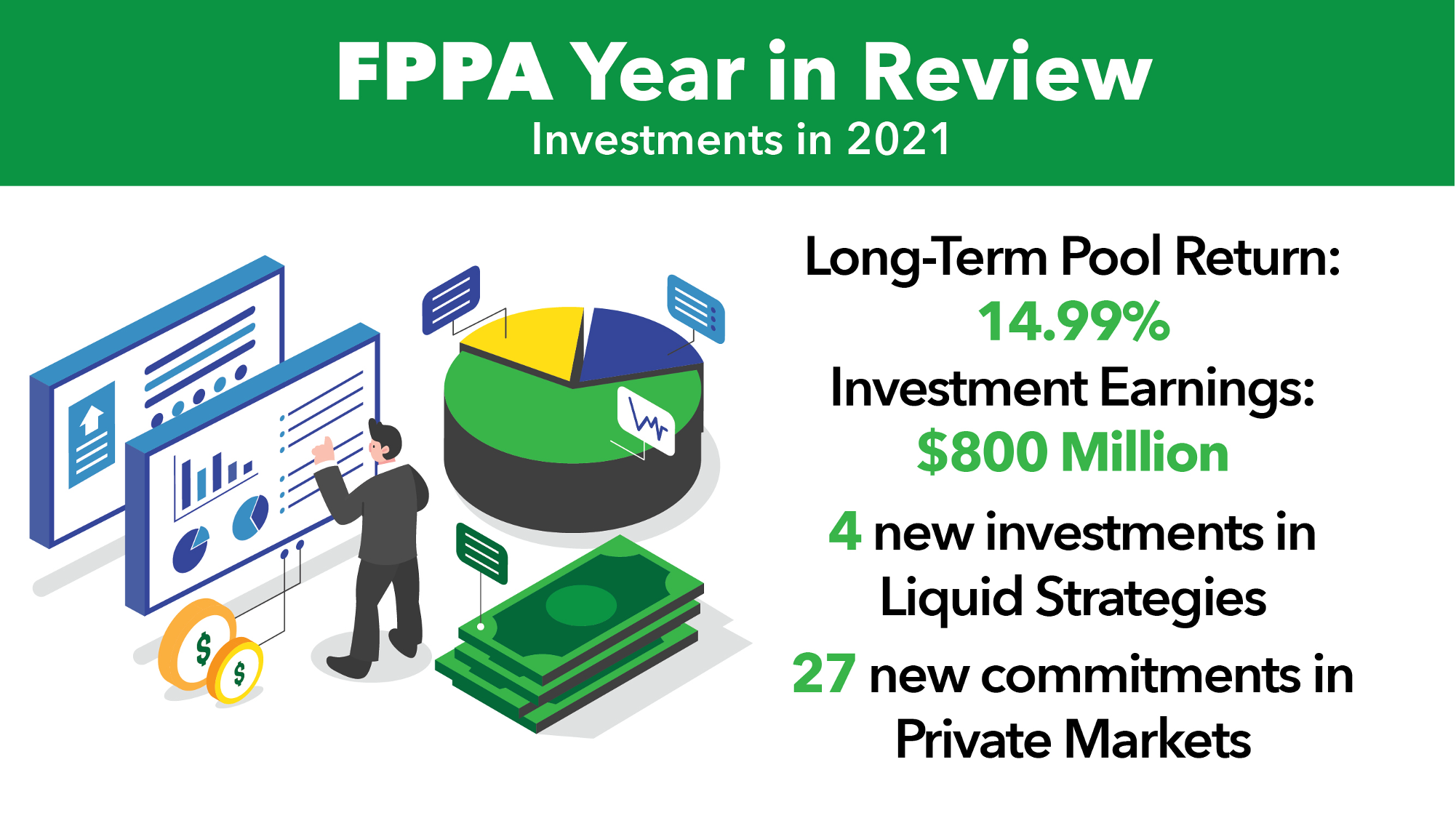 Investments remained strong
FPPA's investments team secured an annual return of just under 15%, representing a 10.3% increase over 2020. They also further diversified FPPA's investment portfolio with new investments in Liquid Strategies and Private Markets.



Staff adopted a hybrid approach to stay in touch
FPPA's staff of 61 successfully transitioned back to hybrid in-office work in fall 2021. While this allowed us to collaborate on projects in-person, we still leveraged technologies like Zoom to communicate digitally with coworkers, members and other stakeholders.
As of December 17th, FPPA staff had completed 9,035 Zoom meetings (up 20% from 2020), for just over one million minutes. In addition, FPPA hosted ten educational webinars in 2021, with topics ranging from investment management to retirement psychology to our annual Employer Summit. Those ten webinars saw a total of 1,224 attendees, for a total of 69,736 minutes.



Field Education got back in the field
In 2021 FPPA finally put the field back in Field Education. After a 17-month hiatus, FPPA's communications team resumed in-person visits with Colorado fire and police departments this summer. Between in-person and Zoom meetings, our Field Ed team completed 218 regular visits with 106 different fire and police departments across the state.
During 2021, the team also assisted five new departments in joining the FPPA retirement system. Welcome Castle Rock PD, Frederick PD, Longmont PD and FD, and Mountain Village PD!



FPPA staff picked up the pace
In and out of the office, our staff stayed on the move. From February through November, our staff logged over 79 million steps (up 10.4% from 2020). Put another way, we walked nearly 37,000 miles. That's enough to circumnavigate the globe one and a half times.

What's next? Good transitions coming in 2022
Even though the focus of this post has been to reflect upon a successful year, let's take a moment to look forward to the new year ahead. 2022 will be a year full of lasting, positive transitions for FPPA, our members and other stakeholders, including:
And with that, let's offer a salute to a (mostly) successful 2021, and a toast to an exciting 2022 to come.
Ryan Woodhouse is the Content and Publications Manager for the Fire & Police Pension Association of Colorado. When not creating content for FPPA, Ryan can be found fly fishing in the Colorado high country or shouting at the TV during University of Wisconsin football and basketball games.